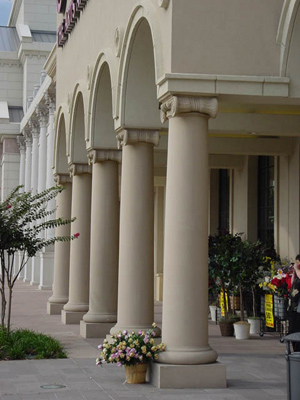 When installed on almost any type of building, architectural columns provide a look of strength and sophistication. On retail establishments, architectural columns mark the entrance to shops, restaurants, and banks, and also attract the attention of potential customers.
Architectural columns are one of Stromberg's signature products. As such, we are familiar with all five major orders - Composite, Doric, Corinthian, Ionic, and Tuscan. For our clients in the retail industry who desire a more modern flair, we can also design and manufacture custom columns. To complement our classical and custom columns, we offer bases, column caps, and entablatures.
Stromberg's architectural columns have been incorporated into the design of numerous retail establishments. Just a few of the retail establishments we have crafted architectural columns for are: the Community Bank of Greenville, the Unity Credit Union, the Capitol Restaurant, El Dorado Furniture, the Food Emporium, Target, The Container Store, Wal-Mart, and Legends Theater in Palm Beach Gardens, Florida. To complete these architectural columns, we relied on the expertise of our artists, craftsmen, and committed production team. We used a number of versatile and modern materials, including GFRG, cast stone, fiberglass, and GFRC, to achieve the appearance and texture desired by our clients.
At Stromberg Architectural, we have the ability to handle projects of any size, and initial estimates are provided at no charge. With stock designs and a refined custom design process, we can produce architectural columns for all types of retail establishments. For more information about our architectural columns and our other products, contact us.