Zoos and Aquariums
Download PDF
Why select Stromberg Museum, Aquarium and Zoo Services for your next project?

CAPACITY:
Over 100,000 square feet of manufacturing space and 14 acres to serve you. No job is too large
Latest computerized laser scanning, CAD and CNC machining and enlargement
Multiple cranes, hoists, welding, foundry, silicone molding
150 associates
EXPERIENCE:
Over 25 years of experience
Engineers, sculptors, designers, architect, fabricators, installers and project managers on staff
World leader in art and architectural castings and replication
QUALITY:
Recognized world wide as the quality leader in sculpture and museum reproductions
Clients include The Smithsonian, NASA, National Park Service, Pentagon, National Museum of the American Indian, etc.
Award winning projects around the world
Design Assistance: Planning, Art and Technology Assistance
Stromberg's fiber-reinforced materials are ideal for use in the construction of zoos and aquariums because of their high strength to weight ratio, low weight, malleability, and water, weather and chemical resistance. Our materials have stood whole after enduring category 5 hurricanes. What's more, these materials aid in the construction of designs not possible in other, more traditional materials-because of their malleability, we are able to cast our materials in molds of nearly any shape or size. We are able to finish elements made of our fiber-reinforced materials in a variety of colors and textures, as well as with finishes replicating the appearance of stone, wood or metal.
Products and Services
Backgrounds and displays
Signs and educational displays
Sculptures in bronze, stone, composite materials
Skeleton recreations
Dinosaurs
Prehistoric mammals
Custom wall cladding and architectural details
Whales and marine life
Rocks, stone and waterfalls
Coral and aquarium interiors
Play equipment, dino digs and models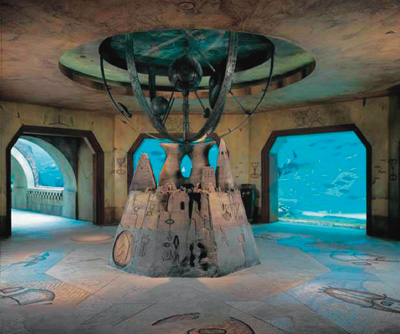 If your aim is to bring natural wonders into the cities of civilization, Stromberg has a selection of waterfalls, which includes smaller cascades that will fit near installation entranceways or imposing waterfalls for larger outdoor areas where your wildlife reside. Our Glass Fiber Reinforced Polymer lined receivers are leak proof, and have a high strength to weight ratio to contain your desired amount of water-ideal for tank construction, or water features in animal habitat areas. We have a wide array of stock designs for waterfalls, fountains and pools, and our artists can assist in creating custom designs, everything from rocky waterfalls to manta ray petting pools. We offer many options in material, shape, size and finish, and we help in creating custom accents such as inscriptions, bas-relief depictions and medallions.
Our fiber-reinforced material benches and tables will afford visitors a comfortable spot to recuperate when touring your zoo or aquarium. We can develop an interior or exterior bench that harmonizes with the other elements in an area. We will customize our benches to best suit clients' needs, and we will always work to determine which design, finish and material is ideal for a given location. Our benches might provide seating for a view of our custom windows, which could be the barrier between visitors and a wild land mammal or trained water friends. Or perhaps our benches and tables will seat visitors before a mural panel, playful statuary, intricate bas-relief sculpture or information sign, each our custom-designed vision.
Contact us to learn more about our fiber-reinforced materials, zoo and aquarium architectural elements and other products and services.