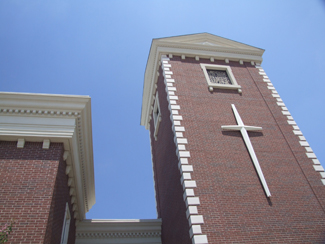 Sacred art, baptismal fonts and pools, and belfries that call the faithful to mass are often used in ecclesiastical applications. Sacred art is important to the devout, and Stromberg Architectural offers religious sculptures and art suitable for people of all faiths. We have crafted sculptures for various churches, including the Sisters of Christian Charity, Our Lady of Guadalupe, and the Steve Smith church in Abilene, Texas. We have designers and artisans who can expertly assist in the drafting and creation of reverent art that will stand for devotion to religion and improve any landscape or structure.
Our sculptures can be made in our fiber-reinforced materials, or in more traditional materials such as stone or metal. Our art glass can be created in traditional stained glass, in our translucent fiber reinforced materials or resin. Our artists can also create liturgical art as murals, panels, moldings, and stations of the cross, as well as other exterior and interior elements in forms and shapes that are significant to ones religion, such as with crucifixes.
Stromberg Architectural also has a large selection of baptismal fonts and pools. Whether you desire a smaller font for baptism by aspersion or affusion, or a larger pool for baptism by immersion or submersion, we offer solutions in customizations and modifications to suit all needs. Our team of draftsmen and artisans can custom design fonts in marble, granite, bronze and our fiber reinforced materials-with options available such as built in pumps, heaters and filters, and installed "turn key" font systems. Our fiberglass-lined units are leak proof, and especially durable and economical.
Stromberg also specializes in producing belfries for churches and cathedrals. The peal of bells profoundly moves, whether the sound of a call to mass, or the ebullient singing of wedding bells-the ringing of Christmas carols or the mournful toll of a funeral. Through digital recordings, our bell towers can play on pre-programmed cycles, modifiable to suit your needs. Chimes are prerecorded and played when manually chosen or at preset times. And our bronze or BronzeClad finished Glass Fiber Reinforced Polymer bells showcase magnificently in any tower. Whichever is your need, we can construct your bell tower that will crown your building, or assist in creating your freestanding campaniles. Our clock towers might also be the option you are looking for. These towers can have a more simple design but profound effect and practical aesthetic. They may also house digitally recorded chimes that lightly remind passersby of the hour. Lightning protection, illuminating lights and sound systems are also options that can be applied to any of our bell or clock towers.
Contact us to learn more about our sacred art, fonts and pools, belfries, and other products.