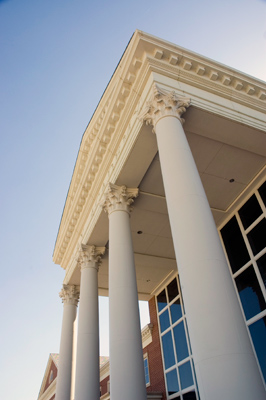 There are few architectural elements that inspire as much awe and wonder as columns. Stretching high into the air, these imposing structures are made even more beautiful when accentuated with bases and entablature. Architectural columns are one of Stromberg Architectural's mainstay products. We have painstakingly crafted columns in accordance with the highest standards for many types of buildings, including health care facilities.
Columns by Stromberg can be found on a number of notable hospitals and wellness centers, including the Fulton County Hospital in Salem. For this project, we used malleable fiberglass to craft lightweight, weather resistant, and striking columns. Cast stone columns designed and manufactured by our experts grace the Mississippi State Hospital in Whitfield, Minnesota. Considerably stronger than those made of limestone, cast stone columns also weather better than those made from many types of natural cut stone, and can be cast in a variety of texture and color combinations. GFRC columns-an integral part of the design of both the Tower Health and Wellness Center in Turlock, California, and the Williams Dental Clinic in College Station, Texas-are also a coveted product.
Stromberg is the producer of the world's tallest columns, and we possess an advanced expertise of the five major column orders-Doric, Ionic, Tuscan, Corinthian, and Composite. In addition to these established orders, we can also create custom columns inspired by more modern motifs. Initial estimates are provided at no cost, and our design experts are happy to provide assistance with details and specifications. For more information about our architectural columns and our other products, contact us.