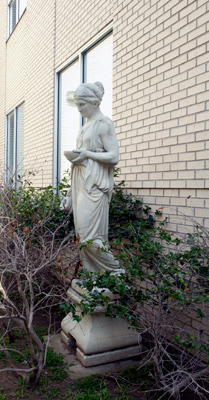 Architectural sculpture, although perhaps not as common as other elements, does serve numerous purposes in medical centers. Many hospitals contain chapels and other areas of prayer, and sculptures depicting venerated religious figures can provide solace and hope for those dealing with serious illnesses and unexpected bad news. Exterior memorial sculptures can honor a hospital's founder or generous donors, and waiting room sculptures can transform a barren area into an inviting space.
Not to be overlooked in this category is the impact that bright and colorful sculptures can have on children. One of our most memorable projects was our partnership with the Children's Hospital in Seattle, Washington. For this nationally-recognized health center, we crafted several animal sculptures from Glass Fiber Reinforced Polymer. The unique properties of this adaptable material permitted our team to craft giraffe sculptures with unexpected blue and purple coloring, as well as a friendly looking purple and pink hippo sculpture. The entire facility is devoted to making sick children feel at home-from the aquariums to the Clown Care Unit-and Stromberg's animal sculptures fit in perfectly with the hospital's overall theme.
Whether it's a cast stone sculpture of the Virgin Mary or a GFRP sculpture of a clown to make kids smile, the team at Stromberg Architectural has the tools and expertise to complete the job. Our museum quality sculptures are a valuable addition to all types of health care facilities. Contact us for more information about our architectural sculptures and our other products.