Glass Fiber Reinforced Polymer (Fiberglass) Balustrade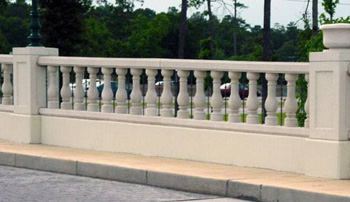 Glass Fiber Reinforced Polymer is a revolutionary building material that offers design options that are practically limitless. If you're struggling to find the perfect material for your balustrade system, why not consider fiberglass?
One of the biggest advantages of GFRP balustrade is that it requires little to no maintenance, even when kept outdoors in the harshest climates. GFRP balustrade is impervious to water, freezing, salt, acid, and most chemicals, so you can enjoy the stunning beauty of your GFRP balustrade without worrying about damage and costly repairs. GFRP balustrade by Stromberg is stronger than many other traditional building materials. It's also lightweight and easy to handle, making transportation and installation a breeze. You can order any custom color you'd like, or we can apply special finishes that will make your GFRP balustrade look like limestone, bronze, or even gold! Now you can make your guests feel like royalty without breaking the bank.
One of Stromberg's representatives would be happy to tell you how GFRP balustrade can enhance the appearance of your landings, decks, or staircases. We can provide a quote based on your unique vision, and we'll make sure you're delighted with your GFRP balustrade before we install it. Call us today to transform your staircases, balconies, and landings into something truly spectacular.