Architectural Barrel Vaulting for Government Projects
Although some government buildings are hardly distinguishable from the structures that surround them, many are spectacular examples of architectural design at its finest. Frequently inspired by earlier architectural movements, government buildings are often awe-inspiring structures that incorporate many of the most attractive design elements of days gone by. Perhaps the most dramatic example of an effective use of architectural barrel vaulting in a government building can be found in the Library of Congress. Visit this location, and you'll find architectural barrel vaulting spanning an impressive distance. The decorative, Renaissance-style painting on the architectural barrel vaulting adds even more to the interior design of this breathtaking building. The Second Bank of the United States, located in Philadelphia, also contains architectural barrel vaulting.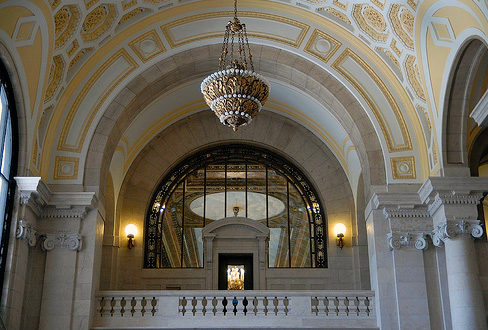 Stromberg has worked with a number of government clients, and our work can be found on a wide range of U.S. government buildings, including The Pentagon, The White House, and the U.S. Embassy in Kuwait. It is a great source of pride to know that our work appears on some of the most well-known buildings in the United States, and indeed the world. We can design custom architectural barrel vaulting that will complement the interior design of your government building, whether it's a classical Roman design or contains more modern elements.
Stromberg's design team would be pleased to work with you to help you transform your ordinary building into something truly magnificent. Contact us today to obtain a quote or learn more about barrel vaulting or any one of our other exciting products.