Barrel Vaulting for Residential and Home Projects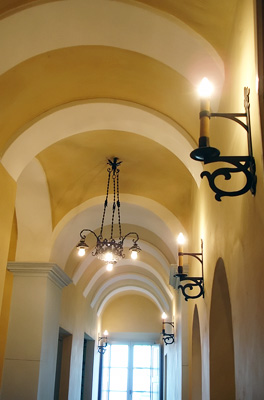 Homes do not have a "typical" architectural style; they are as diverse as the people who own them. From Renaissance-inspired mansions to super modern art-deco structures, there is no shortage of possibilities when it comes to a home's interior and exterior design. If you're looking for something that can set your home apart from most others, architectural barrel vaulting may be the answer. Whether you want to create a stunning foyer, a special bedroom, or would like architectural barrel vaulting to span the entire width of your home, Stromberg can help.
Rest assured that our top priority when working with homeowners is to develop an architectural barrel vaulting design they are delighted with. Homeowners consistently choose Stromberg because of our care and commitment to their satisfaction, and our past clients have included the Sultan of Brunei, Bruce Willis, and Chuck Norris. The projects we complete for government and business clients may be subject to a strict set of rules, but homeowners can really have some fun when they are choosing architectural barrel vaulting for their home. Go daring or be conservative - with our custom architectural barrel vaulting, we can provide exactly the architectural barrel vaulting material, texture, and color you want. With Stromberg, the design possibilities are limited only by your imagination. Contact us to discuss your unique vision or obtain a quote.