Bollards Save Lives
Each year motorists kill thousands of pedestrians and many thousands more are injured. Bollards can help protect people and property:
Bollards are proven to calm traffic and prevent crashes.
Bollards protect pedestrians and cyclists from vehicles.
Bollards designate pedestrian areas. They block cars and trucks while allowing pedestrians and bicycles to pass freely between the bollards.
Bollards enforce and manage traffic flow 24 hours a day.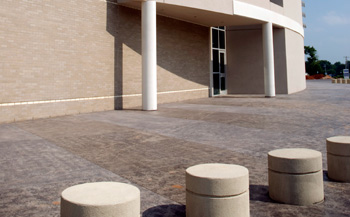 Bollards Manage Traffic
Bollards can serve several functions in traffic management:
Protect property from vehicles
Divert traffic
Close off areas for pedestrian only use
Bollards Create Livable Streets
Bollards and security planters help make streets safe for pedestrians, children, seniors and bicyclists. Streets become safer and more livable. Street side restaurants and shops, street fairs and sidewalk service cafes become possible. Bollards and planters can be used to close streets to create plazas and areas of refuge from the city traffic. These protected areas give people the ability to relax and enjoy the outdoors in an outside "room". These "livable streets" can play a vital role in attracting pedestrians and business to an area.
Bollards Protect Bike Lanes, Paths and Greenways
Bollards and barrier planters can be a valuable tool to prevent motorists from entering bike lanes, separated paths and greenways.
Bollards for Security
Bollards and security planters by Stromberg can be installed to stop a car or truck, even one traveling at high speeds. Bollards are used at courthouses, capitals, power plants, office buildings, airports, embassies and military bases around the world.
Security bollards and barriers can include bollards, barriers and planters
Easy to install
Attractive and low maintenance
Security without a "fortress" appearance
Bollards to Prevent Parking
Illegally parked trucks and cars can damage sidewalks, restrict pedestrian access and can be a nuisance and safety hazard. Building owners are responsible for maintaining the pedestrian walkways and sidewalks by their buildings and bollards and security planters can help stop vehicles from parking on the sidewalks and damaging them. Bollards prevent cars from blocking building entrances.
Bollards for Property Protection
Bollards can protect building corners, bus stops, telephone booths and utility boxes from cars.
Icon Bollards and Way Finding
Icon bollards identify areas, stores or attractions. Sports balls for a ball park, giant fruit for a grocery or animals for a zoo. We produce custom icon bollards that become fun, memorable attractions.