GFRC Architectural Cornice
Imagine being able to get the look of concrete without all that extra weight. Our GFRC cornice allows you to do just that. Most concrete is reinforced with extremely heavy materials like steel, but our GFRC cornices are reinforced with lightweight fiberglass, allowing us to give our customers the beauty of concrete at a fraction of the weight. The lightweight properties of our GFRC cornices means they can usually be installed without adding any additional supports to the structure. In addition to being lightweight, GFRC cornices have a number of other advantages.
The design possibilities are virtually endless: GFRC cornice is a great choice of material for an architectural cornice, whether your building has a classical or more modern design. You can choose from our collection of stock designs or request a custom cornice if you don't see exactly what you're looking for. In addition to being able to make architectural cornice in virtually any shape imaginable, we can also add carved details, dentils, reveals, and cantilevered projections to enhance the look of the architectural cornice.
GFRC cornice is non-combustible: Even if your entire building is on fire, your GFRC cornice will not burn. It is an extremely fire-resistant material.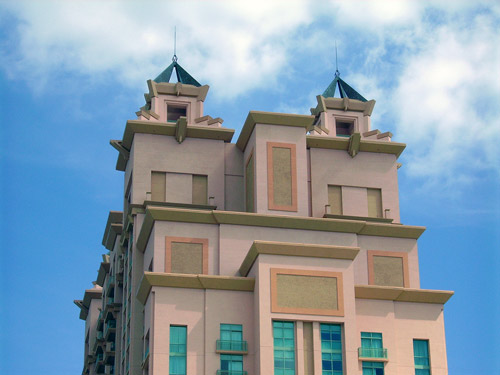 GFRC cornice is available in a number of finishes: Our architectural cornice can replicate heavier, more costly materials like granite, limestone, and terra-cotta. We offer a number of finishes, including stone textures and acid-washed concretes. If you want GFRC that will blend in with the surrounding structure, ask about our special finish that can be painted with virtually any brand and color of paint. When the time comes to freshen up the interior or exterior of your building, it's as easy as applying a few coats to your GFRC cornice.
GFRC cornice is waterproof: Our GFRC cornice can be installed underwater, so there are no worries about rain and wet weather damaging your architectural cornice.
Please contact us to find out more about our GFRC cornice and how it can both beautify and protect your home or building.