Fiberglass reinforced domes
Fiberglass is the term used to describe FRP (fiberglass reinforced polymer). FRP (fiberglass) are generally produced as a thin rigid laminate shell. Fiberglass (FRP) domes are formed by spraying a polyester resin gel coat into a mold. When the gel coat is tack-free, layers of chopped glass fiber or glass fabric and resin are added. Reinforcing ribs, rods and struts can be added if necessary. The fiberglass gel coat can be pigmented or painted. Fiberglass domes are frequently used as where a lightweight, strong and long lasting dome is needed. Fiberglass has excellent versatility, and fiberglass domes can replicate stone, wood, metal and terra cotta. Fiberglass domes can be cast in bright colors or even gold leafed. Its ability to be cast into ornate or complex shapes makes it possible to produce ornate dome drums and dome drum elements including columns, column capitals, balustrades, dome cornices or parapets. Fiberglass domes are lightweight and fiberglass domes have a high ratio of strength to weight. Being produced from resins and fiberglass cloth is what gives FRP domes the ability to be molded into almost any shape, including complex dome shapes. Fiberglass domes are able to be integrally colored, painted or gold leafed. On the jobsite, fiberglass domes are easy and quick to install.
Features:
Stromberg Fiberglass Domes provide quick on-site construction and assembly
Stromberg Fiberglass domes are low cost
Stromberg Fiberglass domes are rot resistant
Stromberg Fiberglass Domes do not rust
Stromberg Fiberglass domes are highly corrosion resistant
Stromberg Fiberglass domes are weather resistant
Fiberglass domes do not harbor termites
Fiberglass (FRP) domes are easily repaired if ever damaged
Strength & durability of fiberglass domes is exceptional
Flame, flood & earthquake resistant
Hurricane resistant
Advantages:
Weatherproof

Hurricanes to blizzards; tropics to the arctic. Stromberg domes have stood up to it all, including category 5 hurricanes

Light Weight

Less weight to erect, less weight to support

Custom Ability

Any size, any shape, any color any texture

Durable

Resists acid rain, salt water, UV rays, hail, high winds and vandalism

Experience

30 year proven history of performance. Stromberg fiberglass domes are built by the leaders in architectural fiberglass, with more architectural fiberglass dome experience than anyone.
With the development of fiberglass reinforced plastics a little over 50 years ago, a new material for building domes was introduced. FRP has a long history of use in aviation, where it must stand up to wind speeds of hundreds or even thousands of miles per hour, brutal cold and extreme heat. It's also used in the marine industry on speedboats yachts and military vessels, where it must remain submerged in salt water for years, and be slammed at high speeds against the ocean surface without leaking. Its characteristics of strength, durability, corrosion resistance, water resistance and ability to be molded, make it an ideal material for domes. Stromberg led the development of the use of fiberglass for domes over two decades ago. We've probably built more architectural fiberglass domes than anyone.
Fiberglass is waterproof, incredibly strong, and lightweight and can be molded into virtually any shape, color or texture. What this means to you, is that your fiberglass dome, if properly constructed, can stand up to snow, salt water, hurricanes and just about anything nature can throw at it. Our fiberglass domes are found in the Arctic cold, to the tropical heat. Because fiberglass domes are lightweight, these domes impose virtually no significant load on the structure below, other than for wind and snow loads. They can be molded as smooth domes, textured domes, and tiled domes or in any color. Our fiberglass domes can replicate bronze, stone, gold, copper, stainless steel, terra cotta, marble, and granite. We have produced the world's largest architectural fiberglass dome, and domes for the finest buildings in the world.
Stromberg has created domes with the color of abalone shell, with a Spanish style mosaic tile, with barrel tile, with metallic colors and textures, and in every color of the rainbow. The fiberglass domes are made in large pie shaped sections which are then transported to the jobsite. These are bolted together to form the complete dome.
Fiberglass domes are lightweight. Typical FRP domes weigh approximately 2 lbs per square foot. This minimizes the load on your structure and speeds dome erection.
Fiberglass domes are strong. Stromberg domes have survived category 5 hurricanes with no damage. Fiberglass domes are virtually maintenance free. Salt, chemicals and acid rain are no problem for a Stromberg fiberglass dome.
Fiberglass domes are versatile. Stromberg can produce domes in virtually any shape or size.
Fiberglass domes are beautiful. No other material offers you such a range of possibilities when designing a dome.
Fiberglass domes can replicate existing details, or create a new design.
We produce domes for churches, government buildings, restaurants, resorts and private estates. In addition to fiberglass, domes are cast in GRG (glass reinforced gypsum), GFRC Glass fiber reinforced concrete and translucent (art glass). What material is right for your project? Call us, we can help.
Put our 30 years experience in domes, castings and architectural elements to work for you.
Weatherproof: Stromberg Fiberglass domes are custom designed to meet the needs of their specific location.
Artic regions require the domes to withstand snow loads and wind loads, tropics require hurricane resistance. Our Fiberglass Domes are engineered to withstand the winds, snow loads and seismic forces of your project location and local codes.
Our domes have withstood category 5 (the highest wind speed) hurricanes with no damage.
Due to their shape, domes are inherently very strong. Our use of high strength composites makes them even stronger.
The Dome shape is very aero dynamic. Winds deflect off of the rounded surface.
Stromberg Fiberglass produced and constructed the Great Hall of Waters Dome at Atlantis. The largest architectural fiberglass structure in the world, it rises over 140' and is directly on the ocean. It has withstood three hurricanes with no damage.
"Hurricane Floyd was a category 5 hurricane and did billions of dollars of damage to the Bahamas and the USA. When it hit here the roar was deafening. Over several hours, the high winds and flying debris knocked down buildings and uprooted trees. It ripped stucco from the walls of the hotel next door and ran some huge ships up onto the beach. The next morning when we went outside the area was devastated. There were trees and debris scattered everywhere. I was stunned when the weather cleared and there in the morning light was the Atlantis great dome and marlins, still standing and unfazed by the wrath of the hurricane."
Gilbert Devoe, Paradise Island, Bahamas
Fiberglass Domes: Color and texture options.
Metallics: Bronze, gold, gold leaf, copper, aged bronze, aged copper, nickel and custom metallic.
Stone: limestone, sandstone, marble, granite and custom stone.
Colors: Any color from any paint chart.
Textures: smooth, aged metal, stone, travertine, distressed, mosaic tile, barrel tile, wood grain and custom textures.
Custom: Have something else in mind? Give us a call, we can match it.
Some fiberglass dome examples: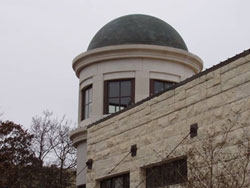 This fiberglass dome is found at The Georgetown City Council Chambers. Stromberg supplied the dome roof, which is aged bronze fiberglass, the round cornice of GFRC (glass fiber reinforced concrete), below which is the dome drum, also of GFRC which contains the windows.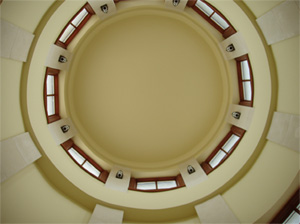 This is the interior view of the Georgetown fiberglass dome. The dome was a composite structure with an interior fiberglass dome, a layer of insulation and an outside fiberglass dome.
Fiberglass domes and finials for Atlantis, Bahamas. The columns, arched surrounds, columns and finials are also fiberglass by Stromberg. For this application, the fiberglass dome is elevated above the roof membrane and the dome is decorative element.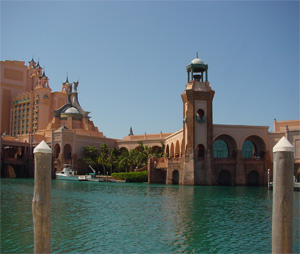 Fiberglass domes at Atlantis, Bahamas. The Great Hall of Waters dome is in the background. Over 140' tall, the structure includes the fiberglass dome, wave and marlins as well as the dome drum of fiberglass in a weathered stone texture. In the forground is the tower lighthouse dome. The fiberglass dome is an abalone color. The fiberglass dome ring and columns are cast in an aged bronze color. The base is fiberglass in a stone color and texture. The dome finials are aged bronze and gold color.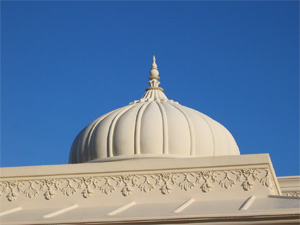 Fiberglass onion, bulbous or mogul style dome. This fiberglass dome is at a private residence in California. Patterned after the beautiful domes of the Taj Mahal, the FRP dome is cast in Strombergs GFRS (glass fiber reinforced stone) and has a stone color and texture.
Fiberglass Octagonal Dome.110'+ diameter. Dome and finial are aged brone fiberglass. Dome trim and seahorse columns are fiberglass with stone texture and color. Atlantis Bahamas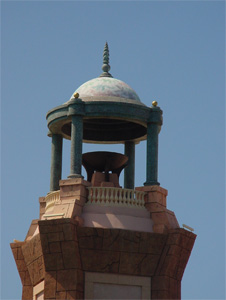 Fiberglass dome, columns and trim (also known as a belvedere).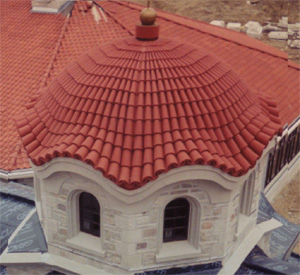 Custom fiberglass dome with the molded in shape of custom barrel tiles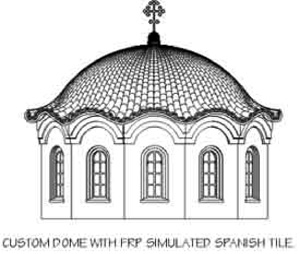 Part of the Stromberg shop drawings of the custom fiberglass domes. We are here to assist you with detailing, connections and engineering of the dome for your project.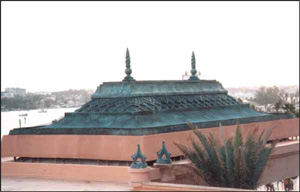 In addition to round fiberglass domes, Stromberg produces custom fiberglass roof structures such as this rectangular porta cochere roof.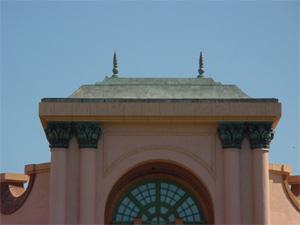 Fiberglass roof (FRP) in aged bronze color. Also custom fiberglass dome finials and dome trim.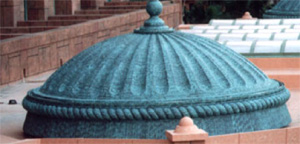 Fiberglass dome with custom detailing. One advantage of fiberglass is the ability to mold in details such as this rope pattern and grooves.