Exterior Architectural Domes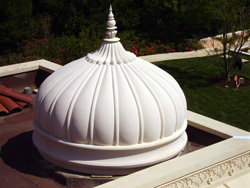 Exterior domes are architectural enhancements that are not only unbelievably strong, but also visually stunning. They may appear on churches, hotels, government buildings, and even some private homes. Exterior domes are available in a wide variety of styles. Cupola domes, onion domes, coffered domes, and the classic semi-spherical shape are all possibilities.
Suitable Materials for Exterior Domes
Exterior domes are continuously exposed to the elements. Because they must withstand wind, snow, heat, and rain, only certain materials are strong enough and sufficiently durable for use in these types of architectural domes. Materials that are suitable include:
Glass Fiber Reinforced Polymer:
Versatile, strong, and lightweight.
Available in numerous styles, textures, and colors.
Glass Fiber Reinforced Concrete:
Reinforced with fiberglass instead of steel.
The beauty of concrete without the thickness and added weight.
Non-combustible.
Glass Fiber Reinforced Stone:
Looks just like carved stone, but weighs significantly less.
Strong and weather resistant.
Exterior Domes: Common Concerns
There are numerous concerns when it comes to exterior domes. One of the major ones is that stone or concrete domes, which are quite heavy, can put a substantial amount of stress on the rest of the building. Exterior domes made of metal can rust and corrode over time, which can mean costly repairs. A rusted or corroded dome will also detract from the overall attractiveness of the building. Exterior domes made of wood have their own unique set of problems. They are a perfect breeding ground for termites, and wood is also prone to rotting. Some types of exterior domes can also become damaged during severe weather events, such as hurricanes and earthquakes.
Advantages of Using Fiberglass for Exterior Domes
Choosing architectural fiberglass domes from Stromberg can address most of the major concerns that many people have about exterior domes. First of all, the fact that they are lightweight means fiberglass reinforced domes will not put unnecessary stress on the structure. In addition to being affordable, fiberglass reinforced domes will never rot, corrode, or rust, even when they are exposed to acid rain or located close to salt water. There is no danger of termite damage with architectural fiberglass domes, and they are very strong and weather-resistant. In fact, Stromberg domes have stood up against category five hurricanes without sustaining damage! They can even withstand earthquakes and floods.
How to Choose the Best Exterior Dome
With Stromberg domes, there are a virtually limitless number of choices. Since architectural fiberglass domes are formed using a mold, and not constructed in a traditional manner like wood or stone domes, they can be practically any size, shape, or style. Fiberglass, in addition to being lightweight, strong, and durable, is also very versatile. These types of architectural domes can be made to resemble a wide variety of materials, including sandstone, marble, bronze, and even gold. They also come in a large number of colors. Consider each of these elements when you are choosing an exterior dome. Stromberg can custom design exterior domes to your exact wishes, and they can help you choose the best material, style, texture, and color if you aren't sure what type of architectural dome would be best.