Interior Architectural Domes
While exterior domes must be durable, weather-resistant, and strong, the primary function of interior domes is to provide a visual enhancement to a specific area of a building, whether it's a dining area, hotel lobby, entranceway, or even a bedroom. The shapes, styles, and designs of interior domes are limited only by the imagination. Interior domes can be found in many different types of buildings. Casinos, hotels, and some fine dining restaurants incorporate the use of interior domes in areas where an unmistakable sense of sophistication and class is needed. Some private residences and churches also contain interior reinforced domes.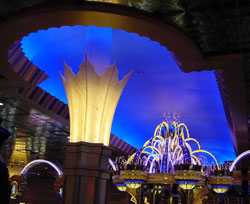 Suitable Materials for Interior Domes
Interior domes will not be exposed to the elements, so they need not be constructed of materials that are specifically designed to withstand extreme temperatures and harsh weather. The two materials that are most commonly used for interior architectural fiberglass domes are:
Glass Fiber Reinforced Gypsum (GFRG):
GFRG can be molded to construct interior domes that are virtually any shape or size
Architectural domes made of GFRG are thin and lightweight
Choose from a variety of color and texture options
Non-combustible
These domes can be accented with GFRG moldings, columns, light coves, and more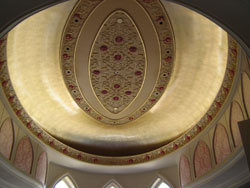 Glass Fiber Reinforced Polymer (GFRP):
GFRP is very cost effective compared to other material choices
Interior domes made from GFRP are easily repaired if damaged
GFRP architectural domes can be made to resemble a number of materials
Concerns: Interior Domes
When it comes to architectural fiberglass domes, the major considerations for interior domes are quite different than those for exterior domes. One primary consideration is that interior domes must be quite lightweight. Some interior architectural domes are suspended from ceilings through the use of screws, hangar wire, or threaded rod. Others are supported through the use of a framed ring in the ceiling. In both cases, it is necessary to use a lightweight material to ensure that interior domes can be safely installed and will not put excessive stress on ceilings. Stromberg architectural fiberglass domes that are constructed of GFRG or GFRP are extremely lightweight; even very large ones can be safely suspended from ceilings.
Another common concern is whether interior domes will be aesthetically pleasing. Stromberg is committed to designing and installing only the most stunning interior domes. Because we use molds, we can design domes that are virtually any size, shape, or texture. In addition, our architectural fiberglass domes can be painted almost any color, or they can be constructed to resemble numerous materials, including limestone, copper, bronze, marble, and even gold. For those interested in translucent domes, Stromberg offers materials that provide the look of real stained glass. These architectural domes can feature classic images, geometric patterns, or custom designs. Interior domes designed and installed by Stromberg will perfectly suit any decor.
Interior Domes Design
When it comes to interior domes design and installation, the main goal is to have a visually pleasing structure that can be safely installed. To choose the best architectural fiberglass domes, the location where they will be installed must be carefully considered. The choice of color and texture depends on whether the domes will subtly accent the area or provide a stunning contrast. For example, a white dome with a marble texture would be a subtle finishing touch to a white or beige room, but in a dark blue or black room with wooden furnishings, it would provide quite a different effect. The size and shape of interior domes are also important considerations. Perfectly-sized domes will be noticeable, but not overwhelming. Because of the large number of factors to consider, choosing the perfect architectural fiberglass dome can seem like a daunting task. The experts at Stromberg have been designing and installing domes for over 30 years. They can tell you about available interior reinforced domes or custom design one according to your exact wishes and specifications. Stromberg is known for being able to build practically anything, so you can be confident that they can design and install the perfect interior dome for your restaurant, casino, hotel, church, or home.