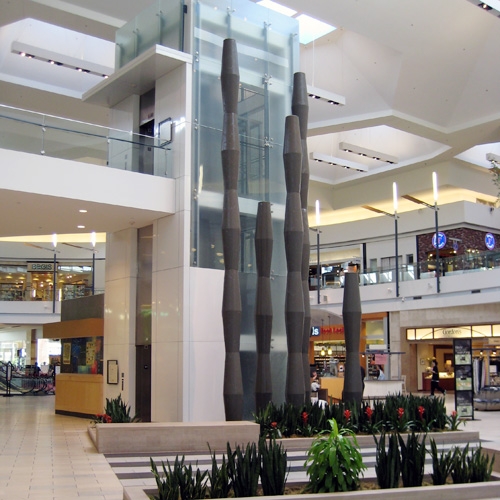 Eastridge Mall
Eastridge Mall in San Jose, California, originally began operations in 1971. However, in 2005 the center opened an interior mall and expanded again in 2006. Eastridge Mall now boasts 145 stores on a 105-acre campus with more than 1.3 million square feet of leasable space. This retail megacomplex serves the largest city in the nine-county San Francisco Bay Area, and is a regional destination for area shoppers.
Stromberg Architectural Products fabricated the fountain tower sculptures located in the middle of the mall's interior space. Stromberg has more than 30 years experience dealing with the limitless imagination of customers needing top-quality sculptural accents for their construction projects. The Eastridge Mall sculptures are fabricated with Stromberg's Glass Fiber Reinforced Polymer (GFRP). GFRP offers unbelievable durability (similarly built Stromberg sculptures in the Bahamas have defied Category 5 hurricane winds), and low weight when compared to other materials. Though the fountain sculptures at Eastridge mall are of a very simplistic abstract design, GFRP is an excellent choice for creating intricate designs and shapes.
As one of our many repeat customers, Eastridge Mall called on Stromberg again during the subsequent expansion in 2006. This time it was for our high quality architectural precast exterior paneling products. Stromberg's paneling covers the exterior of some of the world's busiest travel centers, malls and schools. Our choice of products and materials cannot be matched for any size and scope of construction project. If you are designing a building that will see a large volume of public traffic, give us a call today to find out your best options for creating a public space that will last.
project profile
| | |
| --- | --- |
| Name | Eastridge Mall |
| Location | San Jose, CA |
| Dates | 2005 |
| Materials | GFRP |
| Products | Custom |
| Type | New Construction |