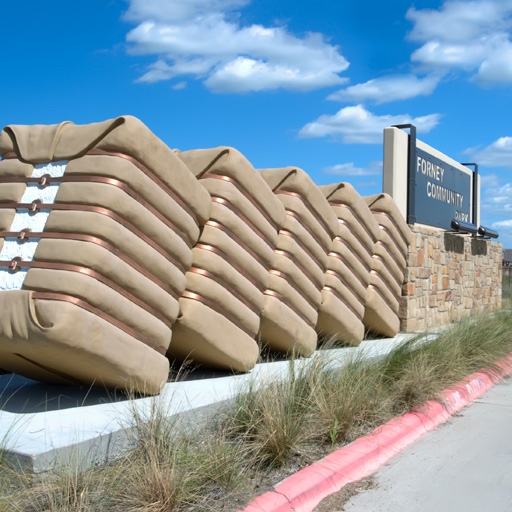 Forney Community Park
The City of Forney held its groundbreaking ceremony for the first phase of the Forney Community Park on March 7, 2009. The Park is a $14.6 million construction effort to create a first class recreational facility. The architect for the park was Schrickel-Rollins & Associates, Arlington, Texas. Contractor is Dean Construction, Cedar Hill, Texas. The first phase of the park is approximately 70 acres of a 127-acre total.
At the entrance, five huge cotton bales rest against the sign to the park. But of course, they are not actually composed of cotton. Media reviews of the park noted the "cement cotton bales," but they are not made of cement either. These thematic elements are actually composed of Stromberg's Glass Fiber Reinforced Polymer (GFRC). Stromberg Architectural Products has perfected the production methods for GFRP to the point that a wide variety of materials, including cement, can be mimicked to the point that observers will never question the material composition. GFRP, as opposed to cement, has an extremely low weight. In the case of the cotton bales at Forney Community Park, this is an asset as the large bales are tilted at an angle on their edges. This would create a high level of stress under the weight to true cement blocks of their size. Also, the resistance to weather is infinitely better with Stromberg GFRP, meaning that these elements will stand the test of time with little to no maintenance required.
Stromberg not only has the material choices, but also the production capacity and design capability to create large-scale, intricate pieces that other production sources simply cannot touch. Stromberg sculptures can be found in a wide variety of thematic applications across the map, including a 140-foot Marlin sculpture in the Bahamas which has already stood firm against a Category 5 Hurricane.
project profile
| | |
| --- | --- |
| Name | Forney Community Park |
| Location | Forney, TX |
| Dates | 2008 |
| Materials | Glass Fiber Reinforced Polymer (GFRP) |
| Products | Cotton Bale Sculptures |
| Type | New Construction |