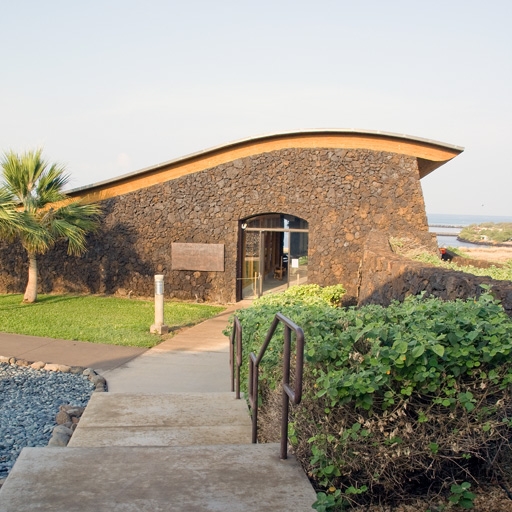 Pu'ukohola Heiau National Park
Long before the unification of the Hawaiian Islands under the rule of Kamehameha the Great, a very unique society inhabited the islands that are now among the top tourism destination spots in the world. The ruins of the last remaining Ancient Hawaiian temple now rest within the Pu'ukohola Heiau National Park. These temples were constructed using the lava rocks that were available in the area.
These rocks are considered sacred. In fact, many people who have taken rocks from the island have later returned them believing that bad luck ensued from their removal. So when it came time to build a visitor center, and stone elements were desired for some of the accenting details, there was a quandary. You see, taking the lava rocks and defacing them to form the stone leg supports for a display table and a welcoming sign was out of the question. It was also not desired to create these elements from another type of stone that was foreign to the sacred ground they would help to highlight.
Stromberg Architectural Products was the perfect solution.
Stromberg's custom materials can be manufactured to perfectly replicate virtually any natural stone found in the environment. Using sample stones that would not be defaced or destroyed, Stromberg manufactured panels to serve as leg bases for a display and a welcoming sign for the visitor's center at the national park. Stromberg fabricated these elements with a base of Glass Fiber Reinforced Stone (GFRS). GFRS is an invention of Lyndon Stromberg, and only through Stromberg Architectural Products can you be assured of the genuine product. GFRS is lightweight when compared to true stone, and offers exceptional resistance to weather and erosion. It can also be molded into very complex shapes and is much less expensive than carving intricate elements out of pure stone.
And creating elements from GFRS will not anger Pele, the goddess of fire and volcanoes.
Today, the casual observer who goes to the national park and its visitor's center will not notice that the welcoming sign and the base panels for the diorama table that maps out the area are not actually made from the lava rock. The surface of the rock was perfectly reproduced in these Stromberg elements. The visitor's center received the aesthetic benefit needed to boost its presentation...
...and the sacred rocks were returned safely to their island home.
project profile
| | |
| --- | --- |
| Name | Pu'ukohola National Park |
| Location | Kawaihae, HI |
| Dates | 2005 |
| Materials | Glass Fiber Reinforced Stone (GFRS) |
| Products | Panels, Signage |
| Type | New Construction |