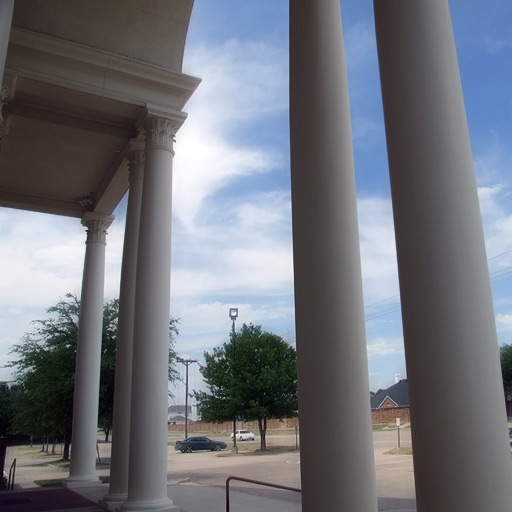 For the Custer Road United Methodist Church in Plano, Texas, we manufactured Corinthian columns and pilasters in Fiber Reinforced Polymer. For both the columns and pilasters, this project required an elegant classical feel.
This job highlights the flexibility and durability of the Fiber Reinforced Polymer products:
Various sizes and styles
Lightweight, yet durable
Weights of 2-4 lbs. per square foot allows for faster installation, less framing, and lower shipping cost
Virtually any shape or form can be molded
Unaffected by acid rain, salts, and most chemicals
Items made from the same material makes design and product selection that much easier for designers and contractors alike. These units are a spectacular addition to their beautiful facility, inside and out.
About Church Architecture and Construction
Stromberg produces numerous architectural elements for church construction.
Columns and capitals in a range of sizes and styles as well as custom sizes
Door and window surrounds and trim
Cladding
Steeples
Baptismal fonts and pools
Sculptures and statuary
Crosses
Cupolas
Ecclesiastical art
Art Glass
Other Church Projects include:
Church Preconstruction Services
Budget estimates
Design development
Samples and mock ups
Scale models and maquettes
Value engineering
Art direction and design assistance
Church Production and Construction Services
Shop drawings and engineering
Custom sculpting
Models
Molds
Casting
Custom finishes. Stone, metal, stucco, wood, etc.
Installation
Materials
FRP (Fiberglass Reinforced Polymer)
GFRC (Glass Fiber Reinforced Concrete)
GRG (Glass Fiber Reinforced Gypsum)
Cast Stone
The ease of installation for this type of material is an asset for job, large or small. For more information and to learn how we can help you with your next construction project, give us a call.
project profile
| | |
| --- | --- |
| Name | Custer Methodist |
| Location | Plano, TX |
| Dates | |
| Materials | Glass Fiber Reinforced Polymer (GFRP) |
| Products | Temple of the Winds (Greek Corinthian) columns and capitals |
| Type | New Construction |