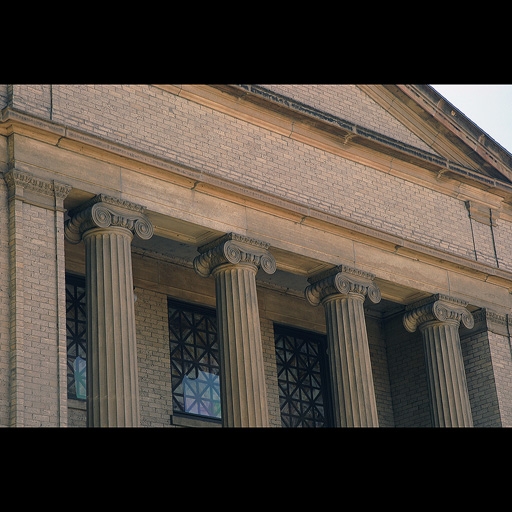 First Presbyterian Church of Idaho Falls
The First Presbyterian Church of Idaho Falls was founded in 1891. The present church is the third location for the congregation, was designed by J.C. Fulton in the Greek Classic style and set upon a terrace. Ground was broken for the building in 1918 and completed on April 11, 1920. An addition was built onto the church and completed in 1959.
The church was due for some touch-ups after 84 years of service, and when the First Presbyterian Church needed to replace their worn columns that adorn the front of their building, Stromberg came into the picture. The replacement columns are composed of our glass fiber reinforced stone (GFRS), a composite material invented in-house by Lyndon Stromberg. The new columns will last the church much longer than the original ones thanks to the weather-resistant properties of GFRS, which even extends to abnormally corrosive acid rain and chemical exposure. GFRS provides the aesthetic appeal of heavy stonework at a fraction of the weight (and related shipping and installation costs). Stromberg is also the industry leader in the production of column covers to match the design needs of any structure, style or architectural requirements in a variety of other high quality materials.
project profile
| | |
| --- | --- |
| Name | First Presbyterian Church |
| Location | Idaho Falls, ID |
| Dates | 2004 |
| Materials | GFRS |
| Products | Fluted Ionic GFRS Columns |
| Type | Renovation |