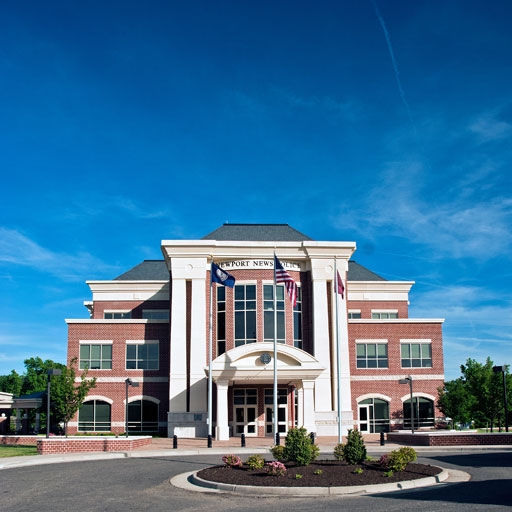 Newport News Police Headquarters
The Newport News, Virginia, police headquarters opened to the public with a special dedication ceremony on September 20, 2007. The facility boasts 65,874 sq. ft. and sits on 12 acres. The three-story main structure accommodates the administration, investigations, planning, training, and recruiting activities, as well as public information. There is a forensics and evidence facility located in a detached one-story structure.
Stromberg Architectural Products was called in to provide a number of elements for this new construction. While the building was design to fit aesthetically well into the civic-minded surrounding, any police station will need to be constructed with high durability materials as such a place is not only host to the occasional "less than gracious guest," but also must remain operational during the worst weather events.
Stromberg fabricated a variety of architectural accents for the building starting with the large pilasters, portico and rooftop arches that make the most visible statement. Stromberg's contributions continue with columns, window headers, cornice and a smaller side entryway to match the style the larger portico in front.
These elements were made from Stromberg's Glass Fiber Reinforced Concrete (GFRC). GFRC is much lighter than true concrete while able to faithfully emulate the former in both look and feel. With a higher tensile strength than steel, GFRC can stand up to rigorous use and pressure. GFRC will also stand up to the forces of Mother Nature as well as normal concrete, and even better under special circumstances such as prolonged exposure to saltwater. GFRC, being composed of minerals, is fireproof and will not burn; in fact, GFRC elements can serve as a heat shield for materials stored behind it.
Call Stromberg today to find out how we can help you with your next high-profile public service center.