Stromberg GFRC
About GFRC
GFRC is concrete that uses glass fibers for reinforcement instead of steel. It is typically cast in a thin section of around 1/2" to 3/4". Since the fibers cannot rust like steel, there is no need for a protective concrete cover thickness to prevent rusting. With the thin, hollow construction of GFRC products, they can weigh a fraction of the weight of traditional precast concrete.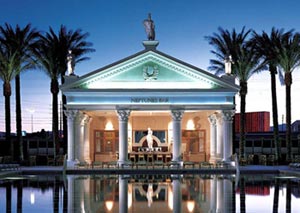 Why Stromberg GFRC is Better
GFRC is a composite of cement, glass fibers, aggregates and polymers. Stromberg GFRC pioneered the design and production of glass fiber reinforced concrete and our unique methods of detailing, manufacturing and installing GFRC that have helped make our clients, and their projects, successful. With our 30 years experience, 1400+ completed projects and numerous satisfied clients Stromberg is the world leader in GFRC. We have a reputation for solving design and construction problems for our client's. Have a question or need assistance? Contact us we are here to help.
How GFRC Can Be Used
GFRC can be used wherever a light, strong, weather resistant, attractive and fire retardant material is required.
GFRC can be used in manufacturing architectural products such as wall panels, window surrounds, column covers, soffits, cornices, brackets, quoins, railings, pilasters, copings, domes, site furnishings, planters, bollards, urns and tables.
Stromberg has pioneered its use in other areas including sandwich panels, bus shelters, security barriers, noise barriers, marine structures, cable ducts, floating pontoons, sunscreens and storage tanks.
Glass Fiber Reinforced Concrete Strength
As an engineered material, the properties of GFRC can vary depending upon mix design, glass content and production methods. Glass fiber used in quality GFRC has a higher tensile strength than steel. As a general rule, the higher the fiber content, the higher the strength. A typical mix with 5% glass fiber has a compressive strength of 6,000 to 8,000 psi.
GFRC Durability
Glass fiber reinforced concrete has been tested both by accelerated aging tests in the laboratory and in real life installations. GFRC can be expected to last as long as pre-cast concrete. In many environments, as when exposed to salt spray or high moisture, the GFRC can be expected to perform better, as there is no steel reinforcement to corrode. Since the surface of GFRC is a Portland concrete, it weathers much as a quality architectural pre-cast concrete would.
Advantages of GFRC
Made of minerals and will not burn. In addition, the nature of concrete acts likes a thermal regulator when exposed to flame. GFRC not only will not burn, but it also protects the materials behind it from the heat of the flame.
Relatively light in weight compared to traditional stone or terra cotta ornaments. Its installation is quick and relatively easy.
Can be cast to virtually any shape. We supply wall panels, columns, bas relief, domes, column capitals, fireplace surrounds, moldings, medallions and all types of custom GFRC shapes.
Available either with a cast in integral color and texture: limestone, precast, acid wash, etc. or as paint grade that is easily finished with virtually any paint
Lightweight
Stromberg GFRC, thin yet strong, weighs 80% to 95% less than solid concrete. This makes it easier and faster to install and reduces the load on the buildings structure. The lighter weight and stronger material also saves transport costs, allows more design freedom and, by using less material, reduces environmental impact.
Superior Strength
Stromberg GFRC is strong. For GFRC panels, this means it has the proven ability to withstand seismic loads and hurricane winds. For architectural elements, stronger means less chance for damage, easier to install and longer lasting.
Durable
Stromberg GFRC lasts. It is less susceptible to weather erosion and more freeze thaw resistant than conventional concrete. The use of glass fibers for reinforcement rather than steel means it cannot rust and can even be used under salt water and in marine environments.
Beautiful
Stromberg GFRC provides the look and feel of natural stone, architectural precast concrete, terra cotta, wood or smooth panels. It allows the designer more freedom in shape, color and texture than any material.
Naturally Friendly to the Environment
Stromberg GFRC has a much lower environmental impact than conventional concrete, stone or other materials. Made with minerals: cement, aggregates, glass fibers and, in some cases mineral pigments and special polymers, GFRC is designed to be long lasting and earth friendly.
Disaster Resistant
Hurricanes, floods, fires and earthquakes are no match for Stromberg GFRC. Over the years it has proven itself both in the lab and in the real world.
Design Freedom with Stromberg GFRC
Name your color.
"We can match it"
Color is one of the most basic elements of architectural design. At Stromberg we offer three basic colors; Limestone White, Limestone Buff and Smooth White, but those are not your only choices. We also custom match virtually any color. So go ahead; pick a color from a fabric sample, a pantone color or a paint chip. We will build a custom GFRC color just for you and your project. GFRC color options include:
Cast-in colors: Cast in solid and mottled colors in smooth, acid wash or sandblasted.
Stains: A range of concrete stains and antiquing stains.
Glazes: Custom hot glazed finishes for a glazed tile or terra cotta look.
Paint: Custom pre painted finishes or ready to paint.
Name your texture
At Stromberg we offer GFRC in almost any texture you can imagine.
Smooth
Sandblasted
Honed
Exposed Aggregate
Travertine
Coral Stone
Wood Grain
Brick
Terra Cotta
Carved details
Looking for a different texture? Give us a call, we can match it.
Name your shape
"Bring us your design, any shape and we will help make it a reality".
Yes, we offer GFRC in flats, squares and rectangles, but we also produce sweeping curves, dramatic angles, spheres, domes, waves, intricate detail and complex geometries. From avant-garde forms to intricate historical details, bring us your design, any shape and we will help make it a reality.
Name your details / solve your challenges
"A new solution for your project's unique challenges"
Like people, no two buildings are the same. So while we offer stock details, we also have experience in solving all types of design challenges. From underwater glass fiber reinforced concrete to high rise cladding and all types in between, we work with you to invent / engineer / design a solution. By drawing on our 1400+ successful projects we can often find a proven solution that has worked before. If not, we will work with you to create a new solution for your projects unique challenges.
Technical Resources