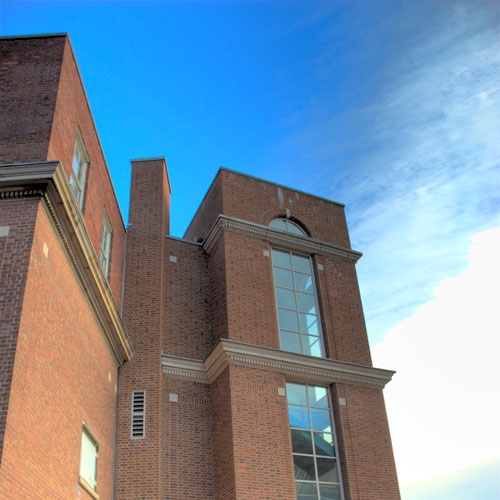 Pierce Laboratory
The John B. Pierce Laboratory was founded in 1933 and though an independent research institute, it is affiliated with Yale University. The three-story Georgian-style building is located on the campus of the Yale School of Medicine. The facility conducts groundbreaking research in the areas of cardiovascular biology and circulation, energy metabolism and sensory neuroscience.
Stromberg was called in when the building underwent renovation work in 1992. Stromberg supplied cornice molding for the projects as well as various other elements such as; urns, threshold, wall cap, pier cap, coping, panels, keystones, a chimney cap, sills, fascia and heads.
All of these elements were composed of Stromberg's Glass Fiber Reinforced Concrete (GFRC). GFRC is an excellent material for reproducing the aesthetic and tactile qualities of concrete or stone while at the same time greatly reducing the weight requirements on a building's structure. GFRC is fireproof and has a tensile strength greater than steel. It can also be expected to resist the effects of weather as well as true concrete, and can even withstand seawater exposure even better.
Call Stromberg Architectural products with your needs for the next project currently resting on your drawing board.
project profile
| | |
| --- | --- |
| Name | Pierce Laboratory |
| Location | New Haven, CT |
| Dates | 1992 |
| Materials | GFRC |
| Products | Custom Cornice |
| Type | Renovation |