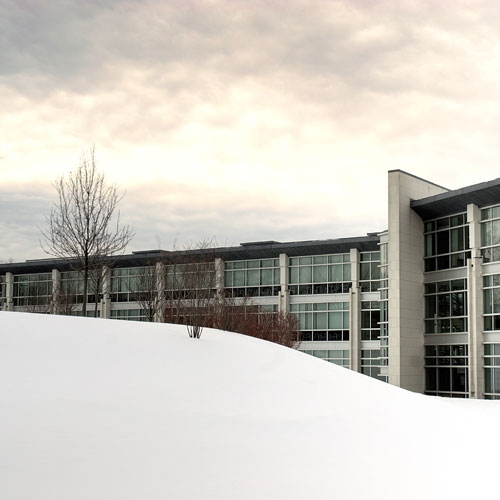 North Shore Community College
The North Shore Community College in Massachusetts updated its Danvers campus with a new main building in 2003. The new construction was an award-winning design that met a thriving demand for much-needed space at the growing school. NSCC has been breaking enrollment records for several years and is now the fifth largest of the Massachusetts' 15 community colleges. Two years later the building was named in honor of Senator Frederick Berry.
Stromberg Architectural Products provided the custom pilasters that line the walls of the structure. When it comes to columns and pilasters, Stromberg is the top name in the market. The pilasters at NSCC are composed of Glass Fiber Reinforced Concrete (GFRC). With Stromberg's GFRC, the structure retains the strong aesthetic appeal that comes with large stone or concrete elements while reducing the weight on the structure significantly. With all the fireproof benefits that come with true concrete, Stromberg's GFRC maintains a higher tensile strength than steel. Massachusetts is a seafront state that can experience dramatic shifts in temperature and weather events, and that's where GFRC shows its true advantages. GFRC will resist normal weathering events as well as true concrete. When it comes to the harsher effects of sea water or continual humidity, GFRC can be expected to perform even better.
project profile
| | |
| --- | --- |
| Name | North Shore College |
| Location | Danvers, MA |
| Dates | 2003 |
| Materials | GFRC |
| Products | Custom Pilasters |
| Type | New Construction |