Stromberg GFRG
History:
A new concept of material was brought from England to the United States and Canada in 1977: a product now known as Glass Fiber Reinforced Gypsum, also referred to as Fiberglass Reinforced Gypsum (FRG) and Glass Reinforced Gypsum (GRG). This included gypsum plaster reinforced with glass fibers to produce a thin,lightweight, yet strong material.
Before long, North American manufacturers began promoting and selling products produced with GFRG. By late 1978, GFRG jobs were being sold and installed in North America. In the early 1980's, Stromberg developed many of the techniques and technology used in GFRG.
Fabrication
GFRG is primarily composed of two raw materials: high density alpha-based gypsum and glass fiber reinforcement. The gypsum plaster should be neutral or of low alkalinity to ensure its compatibility with "E" glass fibers. Additives commonly used within the plaster industry are acceptable provided they are used in accordance with the gypsum manufacturer's recommendations.
Applications:
GFRG is for use where it is not subject to dampness. (Do not use where it is openly exposed to rain or for fountains, pools or wet locations. For these applications see GFRP).GFRG can be used wherever a light, strong and fire retardant material is required (casinos, hotels, theaters, residential, etc.)
Moldings
Ceilings
Columns
Light coves
Bas Relief
Domes
Capitals
Fireplace Surrounds
Medallions
Custom shapes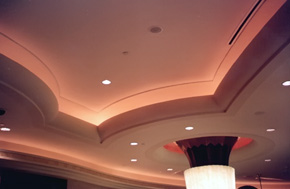 Why GFRG?
Flame Resistant

GFRG is a mineral and will not burn. In addition, the nature of gypsum acts like a thermal regulator when exposed to flame. GFRG not only will not burn, but it also protects the materials behind it from the heat of the flame for up to two hours.

Easy Installation

GFRG is relatively light in weight compared to traditional stone or plaster ornaments. Its installation is quick and relatively easy.

Selection

GFRG can be cast to virtually any shape.

Finish

GFRG is available in a white color and is easily finished with virtually any paint.