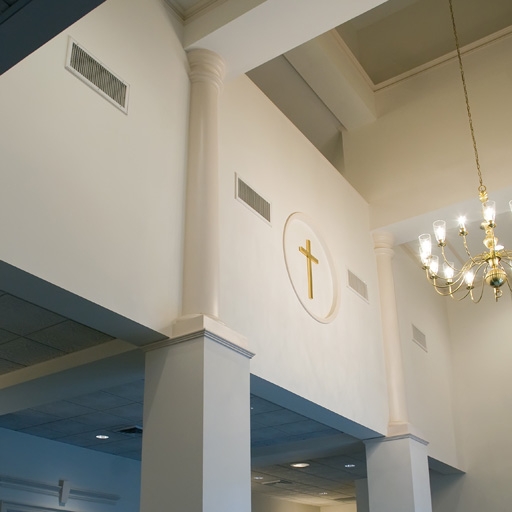 Summerville Baptist Church
Stromberg's Glass Fiber Reinforced Gypsum (GFRG) is an ideal source for interior elements where a light, strong and fire retardant material is needed. GFRG is also ideal for use in creating features that require intricate detail and exquisite finish. Stromberg used this versatile material to create the central cross in the sanctuary of Summerville Baptist Church in Phenix City, Alabama. GFRG was also used for the column covers that also line the overhead wall welcoming visitors into the church's foyer.
In 1949, a group of 28 people came together to form the fellowship of this Baptist congregation in Phenix City. The church grew and prospered, and in 1997 was ready to move into a new sanctuary that is a far cry from the Army tent that once served as a gathering place on the same grounds where the present church stands.
Stromberg Architectural Products of Greenville, TX was chosen for inclusion in this project due to having vast experience in producing some of the keystone elements of churches both large and small. In particular, with GFRG, Stromberg actually developed some of the leading techniques for material production that are in use today. Expertise in production requirements combined with enthusiasm for architectural tradition combine to give Stromberg's client an unequalled resource for the completion of the most demanding projects.
project profile
| | |
| --- | --- |
| Name | Summerville Baptist Church |
| Location | Phenix City, AL |
| Dates | 1997 |
| Materials | Glass Fiber Reinforced Gypsum (GFRG) |
| Products | Columns, Cross |
| Type | New Construction |