Materials
Coral stone, Coquina stone and Fossil stone
What are Coquina, Fossil, and Coral Stones?
Coquina stone contains fragments of shell and sand which protrude from the surface. Raw coquina stone from a quarry looks similar to a clump of sand tightly packed with tiny shells and larger shell fragments.
Fossil stone primarily contains the imprint of various fossilized remains. There can be protrusions within the rock, but they are more spread out and not clumped as tightly as Coquina stone.
Natural Coral stone is harvested from dormant coral reefs, and contains the intricate designs and textures of living coral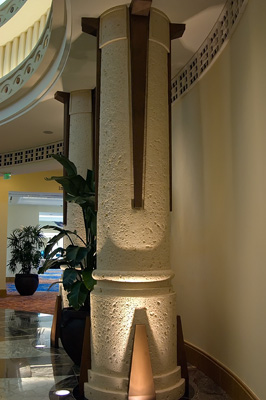 History:
Traditionally, quarried coral and coquina stone is found in ocean communities such as Barbados and along the coast of Florida. These stones offer rich textures and unique visual appeal when used in architecture. Coquina stone, known as Florida's Native Stone, is composed of small shells and shell fragments embedded in sand and naturally cemented with calcite. The only known quarries are in Florida, and resources are diminishing rapidly. Coral stone suffers from a similar fate. Actually comprised of the fossilized skeletons of coral, as opposed to living coral, only a few quarries remain in Florida and only one remains in Barbados.
Fossil stone offers a similarly unique appeal, both texturally and visually. The fossil imprints and roughness contrast well with turned, cut and carved shapes, while the ancient origins of the fossil imprints create a timless appeal.
As the natural resources diminish, it becomes necessary to find alternative methods to acquire the beautiful look of these stones. Stromberg Architectural casts these spectacular finishes to add a touch of timelessness to your project.
Fabrication
Beginning with the finest examples of quarried coral, coquina or fossil stone we can find, we create an exact duplicate through our casting process. Processes vary slightly depending on the materials selected, the level of detail and choice of color. We offer these finishes in GFRG, GFRC, GFRP and Cast Stone.
Applications
Columns
Balustrade
Wall cladding
Window sills and surrounds
Fireplaces
Fountains
Custom work
Why Fossil, Coral and Coquina stone?
Detail

Take a moment to examine our fossil, coral and coquina stone materials. You will find the quality and level of detail to be amazing.

Quality

Our duplicate fossil stones are so accurate, museums have used them for fossil studies.

Strength

Due to Stromberg's casting process, the finished product is stronger and more durable than quarried stone. Due to being less fragile than quarried stone, Stromberg's manufactured fossil, coral and coquina stone materials are easier to work with.

Availability

Because we make the stone from molds rather than depleting natural resources it is readily available upon request.
Additional Resources