Materials
StonePly Projects
StonePly® is a fabricated stone panel wall system utilizing a composite panel made by laminating a natural stone layer to an aluminum honeycomb substrate with aviation epoxies. StonePly Honeycomb® is fabricated and then attached to the substrate with a series of aluminum extrusions. The three basic attachment methods for StonePly® are the Z clip system, utilizing one piece z-clip aluminum extrusions, the plate and screw system, utilizing concealed screw attachment and the adhesive attachment system, utilizing structural silicone. Two joint systems are available, the sealant joint, which uses backer rod and silicone, and the Rain screen system which utilizes open, 'dry' joints.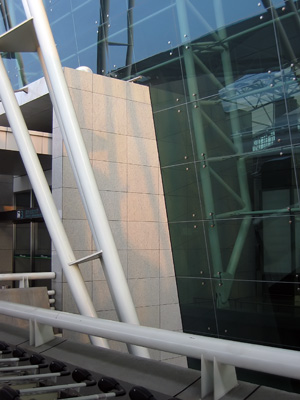 Benefits of StonePly Stone Panels:
The beauty of natural stone - Granite, marble, limestone, travertine, onyx
Light in weight
Strong. 60 times the impact strength of 3 cm. granite.
Choice of any granite, marble, or other stone from anywhere in the world.
Polished, flamed, hammered, honed, or sandblasted finishes available
Bond has been tested at a wind load capacity of over 400 psf.
Will not warp like many 3cm stones.
Holds up to freeze-thaw and seismic racking
Resists large wind blown missile impact and hurricane loading
Easier color blending and matching
Reduced installation time
Reduced installed cost
Larger size stone panels and higher wind load capacities than thick slab stone
Stone is permanently bonded over every centimeter with aviation quality epoxy
Available prefabricated into wall panels or easily set individual panels
Simple quick installation system allows for fast install
Real world tested for over 25 years.
Basic Uses and Applications
As a high end, high quality stone cladding system, StonePly® is designed for use as an exterior cladding on walls, soffits, canopies, fascia, cornices and accent bands. StonePly® is typically used on lowrise to high rise buildings, such as hotels, office towers, retail complexes, condos, educational buildings, medical facilities, etc.