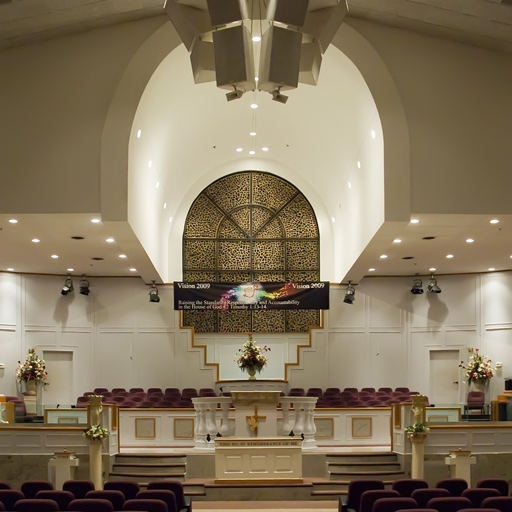 Jackson Memorial Baptist Church
Stromberg Architectural Products of Greenville, TX has been producing highest-quality elements in churches for more than three decades. At Jackson Memorial Baptist Church in Atlanta, Georgia, the quality of Stromberg's Glass Fiber Reinforced Gypsum (GFRG) is apparent in the columns that support the balcony seating area as well as the pulpit from which the preacher addresses his congregation. In 1934, Reverend Huell Jerome Jackson began Shady Grove Baptist Church in Atlanta. Through two name changes, the church was named for its founding pastor in 1966 and recently celebrated its 75th anniversary with August 10, 2008 being named "Jackson Memorial Baptist Church Day" in Fulton County, Georgia.
Working from exacting specs, Stromberg manufactured the GFRG pulpit base to match the top produced by a partnering marble fabricator, demonstrating the ability of Stromberg to integrate seamlessly into the workflow of a multi-sourced project. When it comes to creating high quality column covers, Stromberg is the clear industry leader. Stromberg has produced countless columns of every design style, including the tallest standing columns in the world today.
project profile
| | |
| --- | --- |
| Name | Jackson Memorial Baptist |
| Location | Atlanta, GA |
| Dates | 2003 |
| Materials | Glass Fiber Reinforced Gypsum (GFRG) |
| Products | Column Covers, Pulpit |
| Type | New Construction |