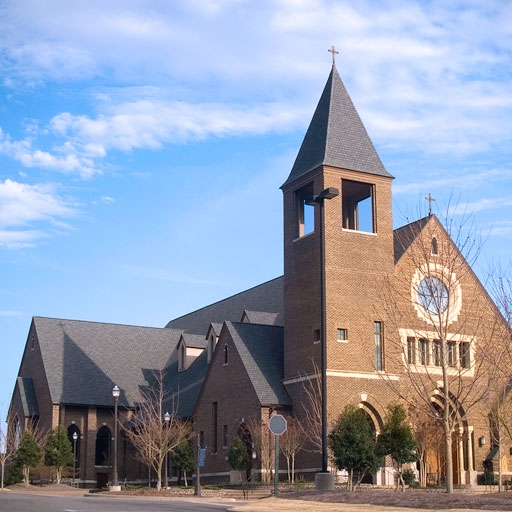 St. Mark the Evangelist Catholic Church
In 1999 the Catholic parish of St. Mark the Evangelist in Birmingham, Alabama celebrated their first service for the Feast of Pentecost in a local elementary school. Among the first tasks in the order of things to do for the new congregation was to build a new church to house a growing church population. The ground blessing for the new church site was held on Oct. 29, 2000. Nearly three years later a new church would open its doors to worshippers. The church was built in the design of a cruciform. The ceiling is 57 feet high and the bell tower reaches up to 105 feet. It was designed to hold 1,020 worshipers.
The Birmingham parish was blessed to receive gifts from other churches in the form of 100-year-old stained glass windows and other historic features to showcase in their new church home, but the building itself had to be constructed to best showcase these treasures.
What immediately captures the eye when one walks into the sanctuary of the church is the massive arched ceiling. Stromberg created the arches for this element with Glass Fiber Reinforced Gypsum (GFRG). This material is ideal for interior elements requiring extensive and intricate detailing. As a side benefit, it is fireproof and acts as a thermal regulator when exposed to flame. In addition to the arches, Stromberg rosettes are prominently placed in the ceiling for added elegance.
Stromberg also created three distinct rosettes for the interior of the building as well as providing the columns, capitals and bases for which Stromberg is renowned in the architectural industry. Finally, topping off the project, a Stromberg rose window measuring just under eight feet across provides the perfect accent to accompany the natural sunlight that comes into the interior through its opening. The rose window adds an element of old Gothic architecture to the modern structure.
With Stromberg's production capacity, intricate details from the past can be recreated and blended with modern materials to created pieces that will last well into future generations of appreciative viewers. In fact, a large part of Stromberg's workload actually involves the renovation of historic buildings themselves.