GFRC Cornice Provides the Crowning Touch to Inner Harbor
The newly constructed Spinnaker Bay, overlooking Inner Harbor in Baltimore is crowned with a 6' tall GFRC cornice. Stromberg cast the cornice in 8' long sections of GFRC with a cast in limestone finish and an integral metal stud frame. Stromberg's affiliated installation company also provided the installation for this project.
The GFRC cornice provided significant savings in weight and made the massive and beautiful cornice possible.
Cornices provide the visual finishing touch to the roof line. Additionally, cornices provide shading to reduce energy costs and protect the wall below from the weather.
GFRC (Glass fiber reinforced concrete) cornices offer architects a number of design possibilities. With Stromberg GFRC shape selection is virtually unlimited and cornices can be designed in traditional or contemporary styles. Custom shapes can be used, or you can select a stock profile from our extensive collection. Dentils, reveals, cantilevered projections, carved details, can all be incorporated into the cornice. Finish options include stone textures, acid washed concretes, colors, terra cottas, and even metallic.
GFRC cornice is non combustible and has superior fire resistant properties
GFRC cornice offers a variety of shapes and great detail
GFRC cornice is lightweight
GFRC cornice is waterproof and can be used in damp locations or even underwater
GFRC can replicate terra-cotta, granite, limestone, cast stone, concrete or other hard to use materials
Because of the relatively light weight and strength of GFRC, the cornice can cantilever beyond the buildings structure without costly additional support. Wind and other loads are transferred back to the building's structure.
Cornices should be detailed to maintain a continuously uniform water barrier at the interface between wall and roof components. Roof membrane and flashing can extend under the cornice, or roofing can be brought up the backside and over the top of the cornice, covering the entire back panel including caulk joints. Stromberg GFRC offers you a number of options, depending upon your unique requirements. We have considerable experience and have supplied and installed GFRC cornices and fiberglass cornices all over the world. If you need further assistance, specifications or CAD details please give us a call or email. We are here to help.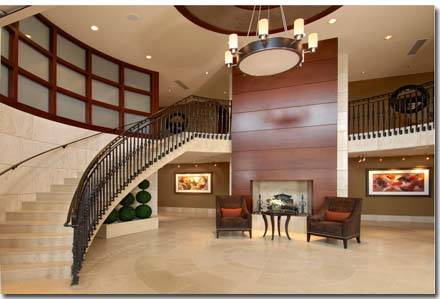 When The Bozzuto Group and SK&I Architects designed the luxury residences on the Baltimore waterfront they turned to Stromberg for the lobby cladding. Stromberg supplied a curved marble colored GRG cladding panel system. Blending mineral pigments into the GRG during the casting process and then polishing the panels created the marble like look.
project profile
| | |
| --- | --- |
| Name | Spinnaker Bay |
| Location | Baltimore, MD |
| Dates | 2004 |
| Materials | Glass Fiber Reinforced Concrete (GFRC), Glass Fiber Reinforced Gypsum (GFRG) |
| Products | Custom designed segments installed onsite to form one continuous cornice, mock marble paneling |
| Type | New Construction |