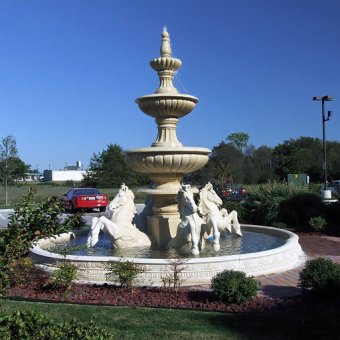 La Quinta Inn
The La Quinta Inn in Greenville, Texas showcases a fine example of Stromberg's sculptural capabilities in its fountain that greets visitors as they drive up to the hotel. The fountain features four horses charging up from the water's surface to create a kinetic and exquisite display. Stromberg has created hundreds of sculptures in the past 30 years for clients ranging from small fountain pieces to the gargantuan sea life reproductions that top the Atlantis resort in the Bahamas. Stromberg's expertise in the field has led to numerous premiere projects that span the globe.
Stromberg has also created a vast and diverse portfolio of fountains for clients both large and small. Stromberg fountains can be found at the most exclusive luxury resorts and can also be found in the exclusive privacy of family estates.
The fountain at La Quinta Inn in Greenville features construction from Stromberg's Glass Fiber Reinforced Concrete and (GFRC) Glass Fiber Reinforced Stone (GFRS), the latter of which is a material that was developed by Lyndon Stromberg himself. Stromberg has the production capabilities and know-how to produce sculptures made from the ideal material for each individual situation.
It is also worth noting that La Quinta Inns in other locations have also called on Stromberg to produce columns for the construction of their hotels. Stromberg is the industry leader in producing columns to fit any style. Columns by Stromberg are also available in a variety of quality materials to fit each project's individual specifications.