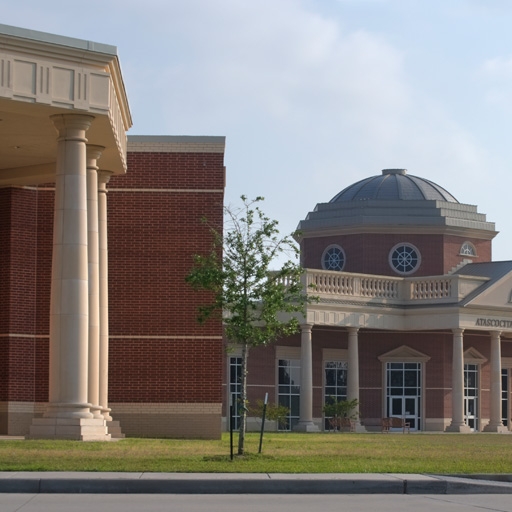 Atascocita High School
Atascocita High School in Texas' Humble Independent School District opened its doors to students in 2006, and the Class of 2008 was its first graduating class. Atascocita is a new concept in high school architectural design, with the 425,000 square foot building designed around eight "houses" or small learning communities. The idea is for students to spend the majority of their school day within their houses for core academic classes, allowing the teachers and administrators to more personalize the curriculum to each student's individual needs.
Atascocita is a repeat customer for Stromberg Architectural Products. This state-of-the-art school uses a range of our high-quality Glass Fiber Reinforced Concrete (GFRC) products ranging from columns and pilasters, to cornice and balustrade. While the schematic design of the building takes a step forward into the future, the visual concept steps backward to a classic and timeless appeal. But being a large public high school, the elements which create that effect must meet the highest standards of durability - that's where Stromberg comes in.
Stromberg Architectural Products works with educational institutions at all levels to provide quality products to build the best possible educational environments.
project profile
| | |
| --- | --- |
| Name | Atascocita High School |
| Location | Humble, TX |
| Dates | 2005-2006 |
| Materials | GFRC |
| Products | Balustrade, Cornice Pilasters, Columns |
| Type | New Construction |