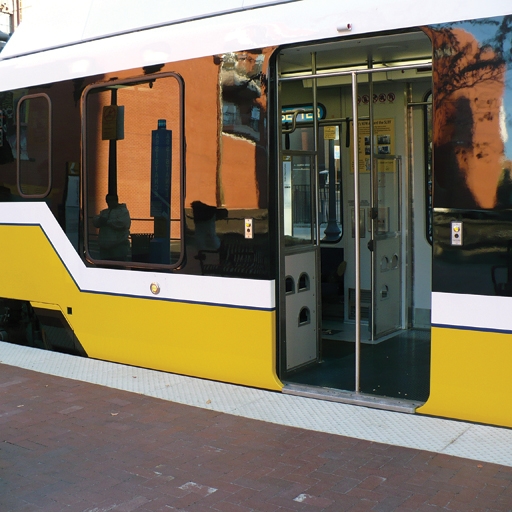 Dallas Area Rapid Transit
When the Dallas Area Rapid Transit (DART) authority wanted to upgrade the accessibility and safety of the light rail for the visually impaired, they contacted Stromberg.
Dallas' public transportation system is expanding, especially in the area of its light rail train system. Stromberg fabricated special floor sections, textured with raised bumps, which will be placed next to the edge of rail lines to assist with the ADA needs of the public. This tactile flooring will alert blind passengers that they are nearing the edge of the platform and the tracks themselves. Stromberg columns, benches, planters and cigarette receptacles are also features of DART stations.
These amenities are constructed of Glass Fiber Reinforced Concrete (GFRC). Stromberg is the best in the business for handling GFRC projects. For "solid as a rock" amenities, GFRC offers many advantages in design.
It is extremely durable, with a higher tensile strength than steel.
It is much lighter than natural stone features.
It is easily fabricated and installed.
It will stand up to high humidity or salt water better than concrete.
Contact us with your needs for attractive and durable amenities for any high-volume facility serving the public's travel needs.
Why GFRC for transit platforms?
Prefered by users:
Plastic products can be slippery when wet and the US Access Board has noted that "Synthetic rubber and vinyl chloride are very slippery when wet."
www.access-board.gov
The same issue of slipperiness applies to metal products. "There is a reason why concrete is a preferred exterior walking surface over metal or plastic" Access ADAIn testing by several independent researchers, the surface rated best is "similar to concrete" while rated worst were "hard composite and applied slip resistant coating" Bentson PHD. Detectable Warnings in Transit Facilities: Safety and Negotiability
"For DART Light Rail, the installation of the Stromberg GFRC tactile surface platform edging has improved the light rail safety and the appearance of the stations. Improved satisfaction with the light rail experience has resulted in more riders"
project profile
| | |
| --- | --- |
| Name | D.A.R.T. |
| Location | Dallas, TX |
| Dates | 2007 |
| Materials | GFRC |
| Products | Tactile Flooring and Rail Station Amenities |
| Type | New Construction |