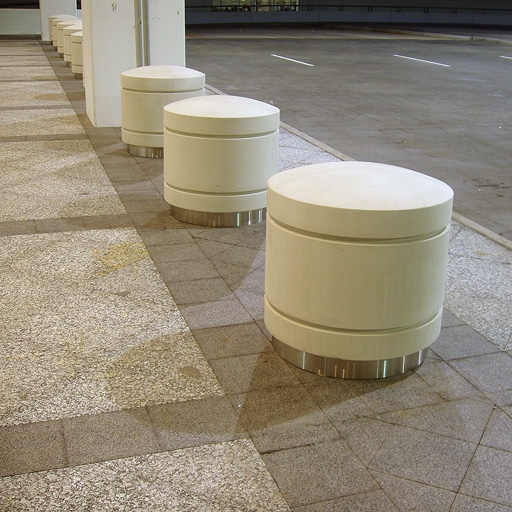 George Bush Intercontinental
Bush Intercontinental is the second busiest airport in Texas. As part of a November 2004 renovation and upgrade project at the airport, Stromberg Architectural Products created a series of 83 bollards composed of Glass Fiber Reinforced Concrete (GFRC). The bollards built by Stromberg actually covered utilitarian steel-post security bollards separating pedestrian walkways from drivable areas, restricting vehicle access to security-sensitive areas of the complex and providing for pedestrian safety. These bollards, measuring 3-1/2 feet in height with a diameter of 2-1/2 feet, were designed with a buff-colored natural stone finish. By using this method, the benefits of natural stone were achieved at a fraction of the cost.
GFRC is lightweight when compared to traditional stone.
GFRC bollards are quickly and easily installed.
The GFRC covering of the bollards provides weather-resistant and fireproof protection with a tensile strength higher than that of steel.
While providing a definite security function, GFRC bollards can designed in a manner to be aesthetically pleasing and complimentary to any location's existing architecture. Call us for more information on how Stromberg products can improve the safety, functionality and appearance of any high-traffic location.
project profile
| | |
| --- | --- |
| Name | George Bush Airport |
| Location | Houston, TX |
| Dates | 2004 |
| Materials | GFRC |
| Products | Bollards |
| Type | Renovation |