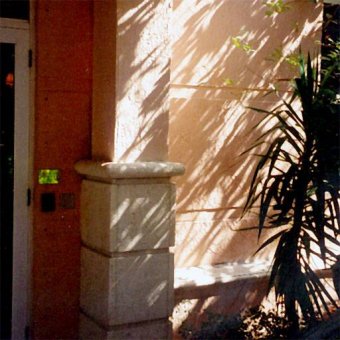 Designed in the Mediterranean and South Floridian style, The Gables Condominiums incorporate coral cast stone details and accents in Glass Fiber Reinforced Concrete (GFRC) and Glass Fiber Reinforced Polymer (GFRP). Stromberg manufactured several hundred GFRC columns in a coral stone texture for the balconies and entry areas. Stromberg Architectural also created the Cast Stone coral trim along the balconies, walkways and pier. Glass Fiber Reinforced Concrete and Glass Fiber Reinforced Polymer have many benefits and uses, such as:
GFRC is moisture resistant. It will not rot, disintegrate or swell when exposed to water, even when completely submerged.
GFRC's light weight allows for reduced installation and delivery costs due to ease and speed of handling.
Reduced loads on buildings leads to a substantial reduction in structural and foundation costs, especially for renovation and restoration.
GFRC allows us to reproduce fine surface details.
Low maintenance requirements.
Stromberg's GFRP has a very high strength to weight ratio.
GFRP is light, about 2 to 4 lbs. per square foot, which equals faster installation, less structural framing, and lower shipping costs for our customers.
Our GFRP resists salt water, chemicals, and the environment. It is unaffected by acid rain, salts, and most chemicals
Virtually any shape or form can be molded
Stromberg GFRP is extremely durable. It withstood category 5 hurricane Floyd with no damage, while nearby structures were demolished.
project profile
| | |
| --- | --- |
| Name | Coral Gables |
| Location | Coral Gables, FL |
| Dates | 2002-2003 |
| Materials | Glass Fiber Reinforced Polymer (GFRP), Precast Concrete |
| Products | Custom designed columns, trim, scuppers and domes to match the original Gables Club Tower built in the late 1990s. |
| Type | New Construction |