Trust the world's largest manufacturer of pergolas to expertly meet all of your needs. We have a 30-year track record of producing pergolas for owners of lavish hotels, resorts, and homes. You can rest assured that no job is too large or complicated for our dedicated team of designers, artisans, and production professionals.
Materials
We can craft your pergola using a number of durable, versatile, and weather resistant materials. Choose from:
Cast stone
Glass Fiber Reinforced Stone
Glass Fiber Reinforced Polymer
Glass Fiber Reinforced Concrete
Services
No charge initial estimates and consultations
Models and maquettes
CAD drawings
Assistance with designs and specifications
Installation if requested

Download Pergola Brochure
Pergolas overview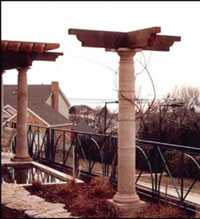 Whether you plan to use your pergola as a shaded covered pathway for guests, an outdoor room, or a covering for an inviting terrace, you can be certain that your pergola will add comfort and character to the grounds of your hotel or resort. A pergola is a romantic feature that can enhance the enjoyment of garden areas because of its beautiful appearance and the shade it offers. Pergolas covered in vines, roses, and climbing plants provide a lush and inviting green space where guests can escape from the afternoon heat and relax with a glass of lemonade.
Stromberg has extensive experience crafting pergolas and other architectural products for the world's finest hospitality locations. We use only weather-resistant and durable materials like cast stone, GFRC, GFRP, and GFRS to craft columns for our one-of-a-kind pergolas, and the beamed framework and open lattice incorporated into the design of our pergolas will provide shade and a place for climbing vines to grow and thrive. Give your guests something extra special they won't expect - develop an outdoor oasis right on your property with a pergola by Stromberg.