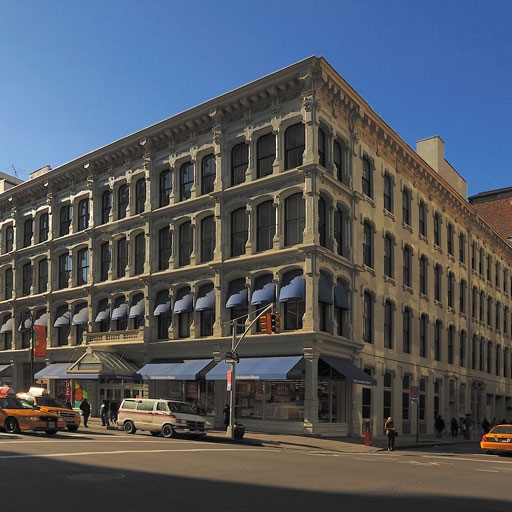 The Container Store
The Container Store's opening in Manhattan breathed new life into a building that was once operated by the dry goods tycoon, B. Alton & Co. The Neo-Greco styled structure was a beautiful example of the cast iron architecture so popular at the time that it was built.
But cast iron architecture had its limitations, many of which were related to its ability to endure years of use and weathering. When the Container Store sought to use the Manhattan landmark, it was in need of a little touching up. With cast iron architecture, there is an issue of replacing elements due to the fact that the foundries which originally constructed materials no longer exist.
Stromberg Architectural Products has extensive experience at replacing cast iron elements for historic structures. Using a base of Glass Fiber Reinforced Polymer (GFRP), Stromberg is able to faithfully reproduce individual elements to replace damaged cast iron. For the Container Store in Manhattan, Stromberg produced numerous interior columns and caps for use throughout the retail space. For the building's exterior, Pilasters and caps were produced to replace individual pieces lost to the effects of time. Stromberg has recreated countless cast iron pieces, seamlessly blending the new in with the old in a way that will both stand the test of time and preserve the historic appeal of buildings for future generations to enjoy.
Stromberg Architectural Products has sufficient production capacity and space to take on large products and help to speed up the installation process. This was a critical benefit of Stromberg's with the reconstruction of the Container Store, which was completed in an expedited 14-week process in order to be open in time for the Christmas rush that is vital for a retail business.
project profile
| | |
| --- | --- |
| Name | Container Store |
| Location | New York City, NY |
| Dates | 1996 |
| Materials | Glass Fiber Reinforced Polymer (GFRP) |
| Products | Columns, Pilasters, Caps |
| Type | Renovation |