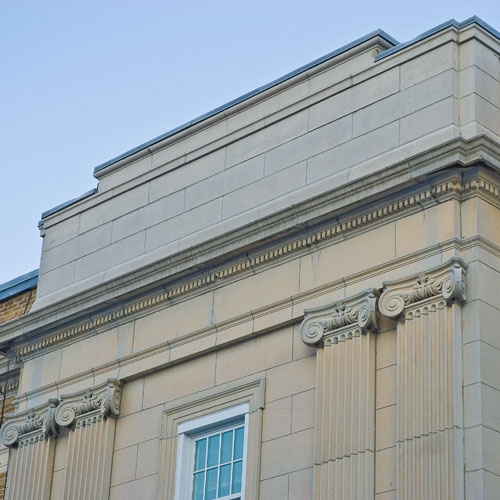 Mamaroneck Ave. Elementary
White Plains is a thriving suburban city of about 50,000 people located approximately 25 miles northeast of New York City. The quality of its school system is a strong attraction for young families and for those relocating to the New York metro area. Mamaroneck Avenue Elementary was originally built in the 1920s. The structure had already been altered in three earlier renovations of the campus. A 2006 addition brought a new wing with 10 new classrooms to the campus.
The school needed a lightweight, durable and weather resistant material for the cornice. They selected Stromberg GFRC to provide the cornice for the project. Manufactured from our Glass Fiber Reinforced Concrete (GFRC), the cornice for this building provides the look of stone to match the existing materials, but offers a great reduction in weight. As well, GFRC will stand up to the elements as well as precast concrete, and in many cases such as prolonged exposure to seawater, GFRC actually even performs better.
GFRC provides an ideal material for numerous architectural shapes including cornice, columns, sills, panels and trim. Stromberg is the industry leader in architectural products manufactured from GFRC. At our 100,000 square foot facility we can fabricate any number of high quality products to finish out the most demanding construction or renovation project.
Architect: Geddis Partnership, Southport CT.
project profile
| | |
| --- | --- |
| Name | Mamaroneck Ave. School |
| Location | White Plains, NY |
| Dates | 2006 |
| Materials | GFRC |
| Products | Cornice |
| Type | Renovation |