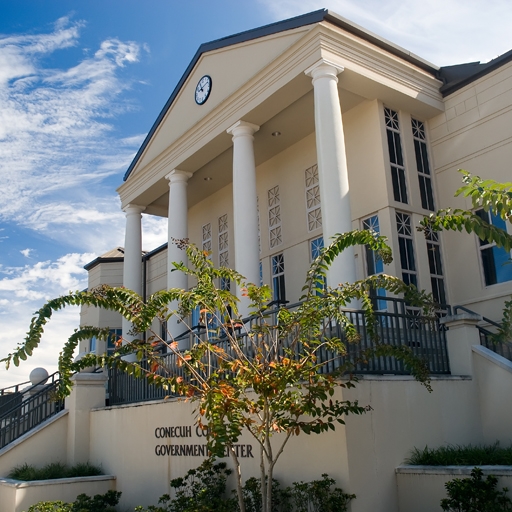 Conecuh County Government Center
Conecuh County decided to replace its old county courthouse in 2005 at an estimated cost of $6.5 million. This was a significant savings as estimates to repair the old courthouse ran in the neighborhood of $10 million. For less money, the citizens of Conecuh County got a much larger, and more modern building at a much smaller price tag. Stromberg Architectural Products was part of the cost-saving process. The new government center opened in May 2007.
Stromberg fabricated columns, cornice, and an architrave for the new government center. Cast in Stromberg Glass Fiber Reinforced Polymer (GFRP), these architectural elements will last much longer than materials used when the older Conecuh County courthouse was built. GFRP has a very high strength-to-weight ratio and resists weathering much better than traditional building materials. With Stromberg's fabrication process, this revolutionary material can be made to emulate many types of traditional materials like wood, stone and various metals. With GFRP complex shapes can be easily molded at any scale. With Stromberg's 100,000-plus square feet of production space, large scale projects are fabricated and shipped to the construction site for easy assembling, saving significant time in construction. Stromberg's GFRP projects to date have stood up to Category 5 hurricanes virtually unscathed.
project profile
| | |
| --- | --- |
| Name | Conecuh County |
| Location | Evergreen, AL |
| Dates | 2005 |
| Materials | Glass Fiber Reinforced Polymer (GFRP) |
| Products | Columns, Cornice, Architrave |
| Type | New Construction |