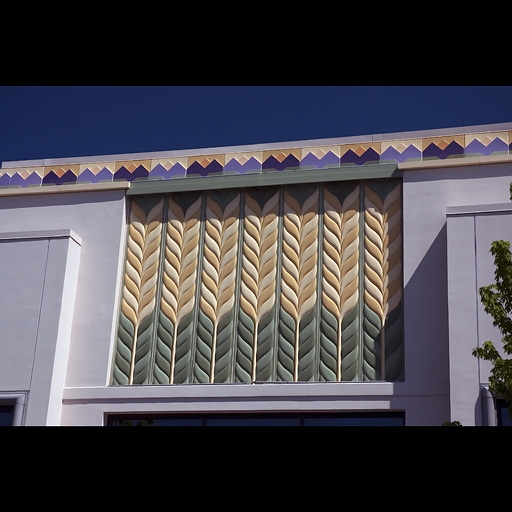 Heidi's Brooklyn Deli
With a menu that spans a 35-sandwich spectrum with desserts, smoothies, bagels and a breakfast menu thrown in for good measure; Heidi's Brooklyn Deli has made a distinctive name for itself in a growing, nationwide food service chain. Heidi's has been voted the No. 1 Deli in it hometown of Denver, Colorado.
For the festive and energetic façade to its Northfield Stapleton location, Stromberg Architectural Products was chosen to create the architectural elements that would define the look of the business. The quality had to be first rate; both to match the high standard for this upscale retail development (home to Colorado's first Macy's), as well as allowing the business to stand out in the midst of more than 100 businesses located in the vast 1.2 million square feet of shopping space.
For these elements, Stromberg's Glass Fiber Reinforced Polymer (GFRP) was selected. GFRP is an excellent material both for durability and malleability. GFRP can easily be molded in an endless variety of shapes and can be solidly formed in intricate sculptural elements that would cause other materials to become overly fragile. GFRP is also an extremely strong material that can withstand the elements for a prolonged period of time. Stromberg Architectural Products is the industry leader in GFRP, and the large scale architectural elements we fabricated for the Atlantis resort in the Bahamas have already faced down a Category 5 hurricane and survived the direct hit while nearby structures received heavy damage.
project profile
| | |
| --- | --- |
| Name | Heidi's Deli |
| Location | Denver, CO |
| Dates | 2005 |
| Materials | GFRP |
| Products | Parapet Cap, Valance Panel, Surrounds, Panels, and Panel System |
| Type | New Construction |