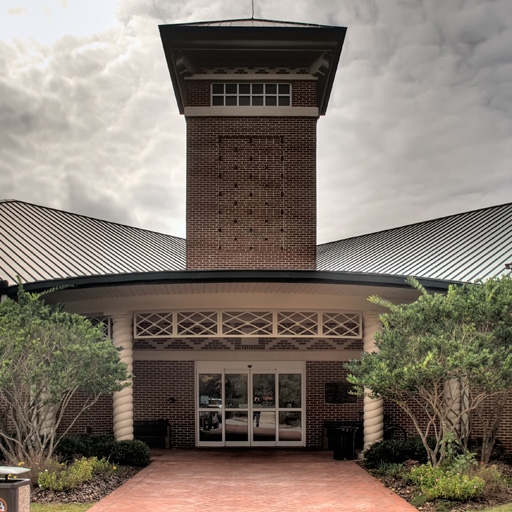 Dawson County Library
Most columns found in architecture are either featureless or fluted, reflecting back on the classical constructions of yesteryear, and when it comes to historical detail, no one tops Stromberg Architectural Products of Greenville, TX.
But when the designers of the Dawson County Library in Dawsonville, Georgia wanted a unique twist to the columns that support the overhead canopy to the building's entrance, they called Stromberg as well. Stromberg has the production capacity to produce columns from the simplest to the most intricate design. And as Stromberg specializes in custom pieces, there are no style limitations on the columns that can be produced. Stromberg Architectural Products has more than 25 years of experience in creating and replicating the wide variety of columns that reflect different design eras and aesthetics throughout the architectural spectrum.
Stromberg's twisting Rope Columns not only welcome visitor's at the entrance to the library, the design is repeated with interior columns as well. Vibrantly painted versions can also be found in the children's are of the library. The exterior columns are made from Stromberg's Glass Fiber Reinforced Stone (GFRS), a material developed in-house by Lyndon Stromberg. This material has enhanced weather-resistance as well as a high strength-to-weight ratio. For the interior columns, Glass Fiber Reinforced Gypsum (GFRG) was used, which makes an excellent choice for areas where the product will not be exposed to the elements or moisture.
The Dawson County Library also serves as the headquarters for the Chestatee Library System. The new library sits on a 3.7 acre site and features classic Georgian design elements updated for a more modern feel. It also sits directly next to the 50-acre recreational "Thunder Road" development that is themed after auto racing and local NASCAR hero Bill Elliott.
project profile
| | |
| --- | --- |
| Name | Dawson County Library |
| Location | Dawsonville, GA |
| Dates | 2002 |
| Materials | Glass Fiber Reinforced Stone (GFRS) |
| Products | Rope Columns |
| Type | New Construction |