We offer the best selection of designs and the highest quality columns of anyone. As world's largest column manufacturer, we have the experience and expertise to make your vision a reality.
Stromberg Architectural Columns
Composite columns
Greek or Roman Corinthian columns
Greek Doric columns
Ionic columns
Custom columns
Bases and entablature
Interior and exterior columns
Applications
Churches
Courthouses
Colleges and Universities
Resorts and casinos
Hotels
Architectural Column Material Options
Material Selection
Columns overview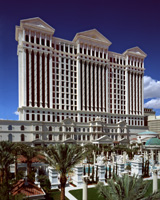 First found on Ancient Egyptian temples and later used in Greek and Roman architecture, architectural columns are an impressive element that can transform ordinary buildings into impressive and imposing masterpieces. Columns are one of Stromberg's mainstay products, and we can craft beautiful columns to complement Roman-themed hotels, contemporary resorts, and everything in between. If you're looking for a classical architectural column, you'll be pleased to know that Stromberg has extensive knowledge of the five major orders. Our Tuscan, Doric, Ionic, Corinthian, and Composite architectural columns are designed and manufactured in accordance with the highest standards of quality and craftsmanship, and we can also make custom columns if you're looking for something modern and unique.
Stromberg's architectural columns can be found at world class resorts like the Atlantis Resort and the Arra Bella resort. We've also developed interior and exterior architectural columns for restaurants like The Cheesecake Factory, amusement parks like Universal Studios in Orlando, Florida, and various plazas, malls, government buildings, and institutions of higher learning. Our fiberglass and fiberglass reinforced columns are lightweight and weather-resistant, and they can be molded into a wide array of textures and shapes. We also offer a number of finishes, so your columns can be snow white or look exactly like bronze. Columns by Stromberg - let your imagination run wild.